Wellness packages for everyone, because we are all just one small ajustment from our true selves...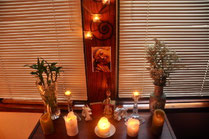 Personal
Whether you want to enjoy a relaxing, rejuvanating experience, or would like to surprise that special someone with an at home massage, any guest concept can be accomodated.  Be it one, two, three or more people with no problem, all are welcomed.
Each client receives a personal consultation to customize a massage therapy session especially for them.  Whether your needs are a specific muscular healing or simply a relaxing way to de-stress, you will never want the session to end.
In a desire to provide affordable care, the fees charged are inexpensive relative to the regular market.